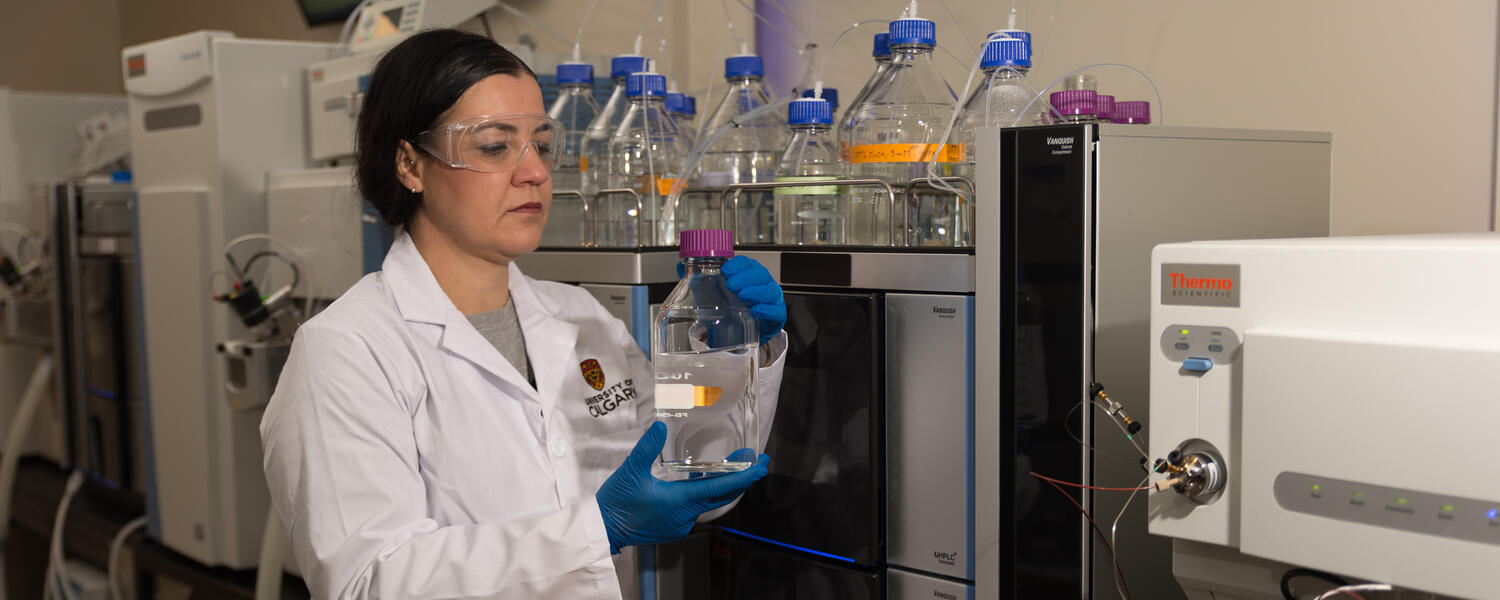 Metabolomics & Proteomics Platform
The International Microbiome Centre (IMC) Metabolomics & Proteomics Platform, in partnership with the Calgary Metabolomics Research Facility (CMRF) and Southern Alberta Mass Spectrometry (SAMS) Centre, is a centralized facility specializing in metabolomics and proteomics for determining the function of microbiomes within their environment.
Our vision is to harness the power of metabolomics and proteomics for better living.
Our mission is to be leaders in microbiome 'omics' research through providing expertise and service. Our platform provides state-of-the-art metabolomic and proteomic technologies for advancement of microbiome research to a broad audience of researchers (internal and external), industry, and government including animal health, agriculture, energy and the environment. IMC expertise and resources in functional 'omics' allows for unravelling of complex host-microbiome dynamics and for the identification of molecular markers underpinning chronic diseases. IMC is facilitating the development of a global network of expertise and service to enable collaborations and partnerships that will promote translation of microbiome research. This platform will provide a basis for access to expertise and information on microbiome metabolomics and proteomics advancements, access, and experts.
Metabolomics
The CMRF offers the following standardized services. Custom assays can be developed on a one-on-one basis.
General metabolite profiling
Covers over 250 central carbon metabolites
<10 minute assay
Identifies all common microbial nutrients and waste products
Thermo Fisher Scientific Q-Exactive HF coupled to a Vanquish Flex UHPLC
Metabolic flux analysis
Measures the activity of intracellular pathways
Traces isotopically labeled nutrients through downstream pathways
Identifies metabolic pathways that are inhibited/ stimulated in disease states
Thermo-Fisher Scientific Q-Exactive high-resolution mass spectrometer coupled to a Thermo-Fisher Vanquish UHPLC separation system (configured for ion-pairing chromatography)
Quantitative analysis
Targeted quantification of key biomarkers in biological samples (eg. short chain fatty acids)
Quantitative scale-up of novel metabolite discoveries
Thermo Fisher Quantum Access Max triple quadrupole mass spectrometer (QqQ) coupled to a Vanquish Flex UHPLC
Microbiome Proteomics
The Southern Alberta Mass Spectrometry (SAMS) center provides rapid, quantitative assessments of microbial proteomes both in the context of the microbiome and infectious disease.
In solution LC-MS/MS sample prep
Accurate protein identification
SP3-based protein concentration and cleanup
Multiplex formatting for bacterial lysis, protein concentration, and sample cleanup
Tandem Mass Tag (TMT) proteomic quantification
Precise proteomic quantitation
High-throughput, multiplex formats
10x faster overall MS run time for large sample sets
LC-MS/MS protein identification
Low throughput protein and proteome characterization
Affordable analyses for up to 10 samples/day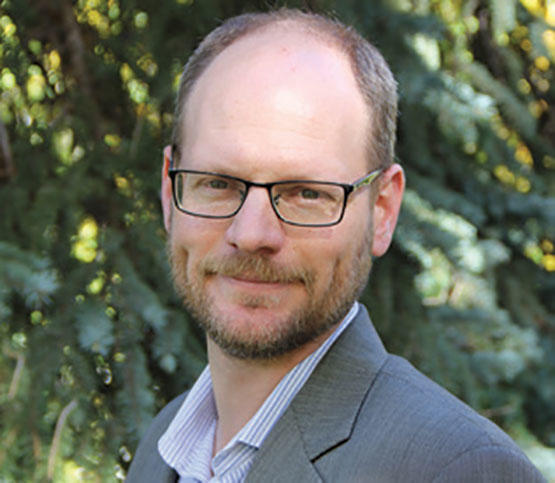 Ian Lewis, PhD, Director, Metabolomics & Proteomics Platform, International Microbiome Centre
Dr. Ian Lewis is an Assistant Professor and Alberta Innovates – Health Solutions Translational Health Chair in Metabolomics in the Department of Biological Sciences at the University of Calgary. Dr. Lewis earned a PhD in Biochemistry from the University of Wisconsin-Madison and completed his postdoctoral training at Princeton University. He was recruited by UCalgary to launch a research program that harnesses state-of-the-art technology to detect and combat infectious diseases. As a part of this program, Dr. Lewis built the Calgary Metabolomics Research Facility (CMRF), an analytical lab that specializes in unravelling the complex host-pathogen metabolic interactions that occur during infections. Recently, he partnered with Alberta Public Laboratories (formerly Calgary Laboratory Services [CLS]) to launch a suite of new diagnostic tools and treatment practices that may significantly reduce the number of people who die from infection.
Flannigan K et al. (2018) An intact microbiota is required for the gastrointestinal toxicity of the immunosuppressant mycophenolate mofetil. J. Heart Lung Transplant.37(9): 1047-1059
Motta JP et al. (2018) Iron Sequestration in Microbiota Biofilms as a Novel Strategy for Treating Inflammatory Bowel Disease. Inflamm. Bowel Dis. 24(7): 1493- 1502
Moges R et al. (2018) Anti-Inflammatory Benefits of Antibiotics: Tylvalosin Induces Apoptosis of Porcine Neutrophils and Macrophages, Promotes Efferocytosis, and Inhibits Pro-Inflammatory CXCL-8, IL1, and LTB4 Production, While Inducing the Release of Pro-Resolving Lipoxin A4 and Resolvin D1. Front. Vet. Sci. (5)57
Gauthier PT et al. (2018) Lifelong Exposure to PCBs in the Remote Norwegian Arctic Disrupts the Plasma Stress Metabolome in Arctic Charr. Environ. Sci. Technol. 52(2): 868-876
Schräder CU et al. (2018) Lysine Propionylation To Boost Sequence Coverage and Enable a "Silent SILAC" Strategy for Relative Protein Quantification. Anal. Chem. 90 (15): 9077–9084
Lu W et al. (2017) Metabolite Measurement: Pitfalls to Avoid and Practices to Follow. Annu. Rev. Biochem. 86: 277-304
Bingeman T et al. (2017) Digestomics: an emerging strategy for comprehensive analysis of protein catabolism Curr. Opin. Biotechnol. 43:134-140
Shaunna Huston, ACCN RN, BSc, PhD Immunology
Director, Programs and Business, International Microbiome Centre
Phone: 403-220-6074
Email: imc@ucalgary.ca