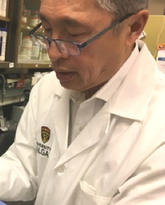 Tom Louie
Infectious diseases expert
University of Calgary
Research
Focus
Hospital epidemiology, specifically the ecology of hospital-acquired infections caused by gram-negative bacilli in patients receiving third-generation antibiotics (cephalosporins).
Biography
Dr. Louie is involved in clinical trials focused on the evolution of new antimicrobial agents and biologic response modifiers in seriously ill patients with infections. As well as certain aspects of clinical infectious diseases and clinical microbiology as it applies to antimicrobial utilization Home IV and diagnostic tests.
He is also a pioneer in the use of fecal microbiota transplants (FMT) to treat C. difficile infection in Canada. He and other specialists are working with the International Microbiome Centre to characterize the gut microbiome and identify beneficial bacteria, which can be used to develop a more universal treatment for CDI.
Background:Dr. Louie sits on the Physician Advisory Board of Rebiotix, a company that uses Microbiota Restoration Therapy to treat debilitating gastrointestinal (GI) diseases such as C. difficile infection (CDI) and IBD.