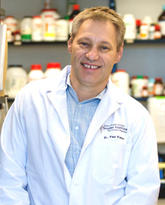 Paul Kubes
Director
Snyder Institute for Chronic Diseases
Research
Focus
Directly visualizing the roles of immune cells during inflammation, infection, and tissue injury.
Biography
Kubes is leading the way in directly imaging the immune system using cutting-edge technology, including spinning-disk confocal and multiphoton microscopy. By imaging complex cellular behaviors in real time, both in vitro and in vivo, his lab is defining how immune cells function under physiological and pathological disease states.
Background: Paul Kubes holds a Canada Research Chair in Leukocyte Recruitment in Inflammatory Disease, and was named the 2011 Canada Researcher of the year by CIHR. He has published over 290 peer-reviewed papers exploring immune response in human disease in journals like Cell, Nature Immunology and Nature Medicine.