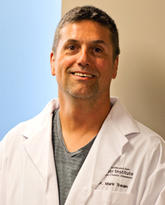 Mark Swain
Professor
Medicine, Hepatologist and Clinician-Scientist, University of Calgary
Research
Focus
Dr. Swain's clinical research is focused on viral hepatitis and autoimmune liver disease.
Biography
Dr. Swain's research has dealt with the influence of the microbiome on signalling pathways that link peripheral inflammation with changes in behaviour like fatigue, cognitive impairment, and mood changes.
He also has basic bench research programs funded by the Canadian Institutes of Health Research in two areas:
Mechanisms underlying the development of fatigue in liver disease.
The innate immune response in the regulation of hepatic inflammation.
Background: He has won many awards for teaching and research, including the University of Calgary Watanabe Distinguished Achievement Award for Overall Excellence. He's currently the Cal Wenzel Family Foundation Chair in Hepatology, and the Head of the Translational Research Core for the Snyder Institute for Chronic Diseases at the University of Calgary.