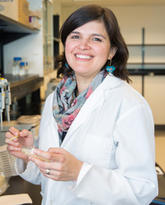 Marie-Claire Arrieta
Assistant Professor
Cumming School of Medicine, University of Calgary
Research
Focus
Leading a cohort study of the next 1,000 newborns in Alberta called the BLOOM Study.
Biography
Arrieta spent five years working in microbiologist Brett Finlay's lab. She combined her knowledge of microbes and immunology to lead a major clinical study on the role of the microbiota in asthma. She played a critical part in building the bioinformatics techniques needed to analyze the microbiota. She demonstrated that certain species of the intestinal microbiota from three-month-old children determine the risk of that child to succumb to asthma later in life.
Recruited from: University of British Columbia, Vancouver, BC
Background: Marie-Claire Arrieta is the co-author of Let Them Eat Dirt. This book for parents explores how the microbiome influences childhood development. It also explains how microbial alterations can lead to several immune-mediated diseases. She has been published in leading scientific journals such as Gut, PNAS, and Science Translational Medicine.